Conceptualización / Concept
ECKArquitectos – Erick Pérez, Carlos Vega
Colaboradores / Proyect Team
Alberto Osuna, Martin Ramírez, Rafael Ramírez, Catalina López
Lugar / Location
Mazatlán, Sinaloa, México
Area / Area
4 m2
Año / Year
2006
Imágenes / Images
Erick Pérez, Catalina López
Curadoria / Curatorship
Gerardo Santamarina, Janeth Berretini
Materiales / Materials
Madera, clavos, alambre recocido, ladrillo, concreto, acrílico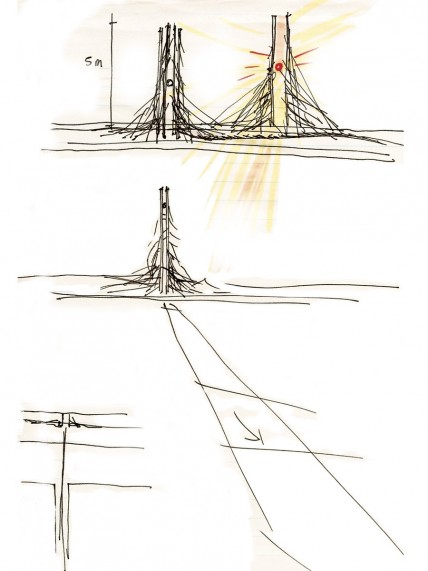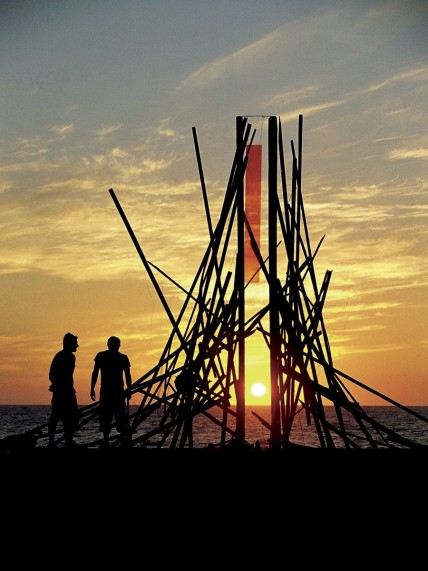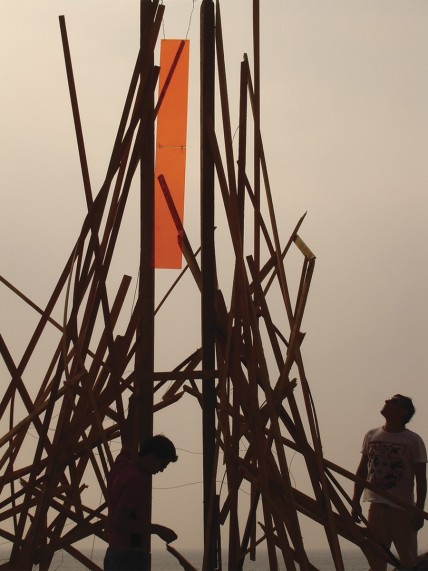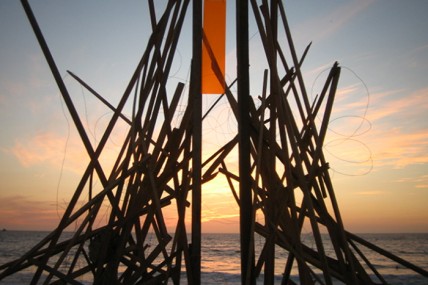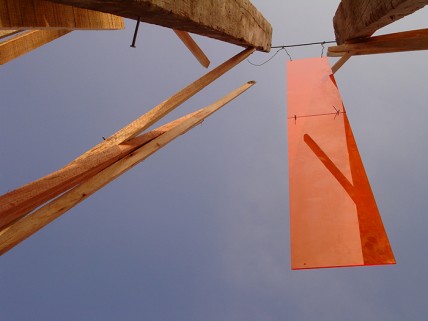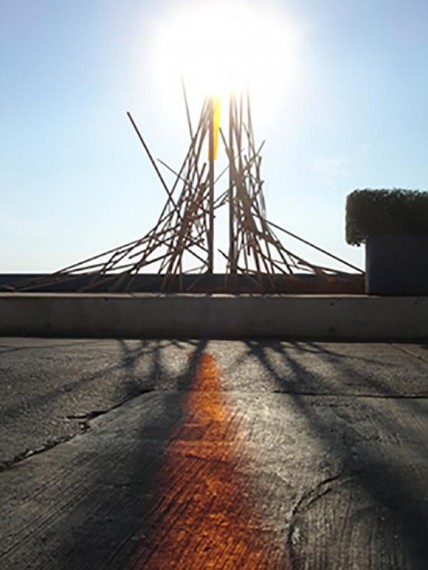 En el marco del simposio internacional de arquitectura ICOMOS se nos invita a participar en la exhibición de arte urbano Inter-versiones. Ideas creadas especialmente para un sitio específico en el Centro Histórico de Mazatlán. El objetivo es intervenir los espacios públicos para reinterpretarlos y sacar el arte del museo a la calle. La temática se basa a dos ejes temáticos: lo urbano temporal y lo urbano espacial.
Nuestra propuesta como taller de arquitectura pretende exponer la materialidad de los elementos usados en el proceso constructivo local: ladrillo, madera de pino, alambre, clavos, concreto y acrílico. El lugar escogido para intervenir es el remate de la calle Constitución y el malecón de las Olas Altas. Se eligió este lugar por su relación de los elementos: espacial, urbano, natural, calle, malecón, banqueta, eje visual, mar, viento y sol.
Se analizó el ángulo de caída del sol en esa época del año, para hacer coincidir sus rayos con el centro de la pieza y la calle, logrando una interacción de luz que pase a través del acrílico naranja que está en la parte superior de la pieza. Este acrílico se cuelga con alambre recocido lo cual permite que el viento lo mueva de una forma sensual y poética.
In the international architecture symposium ICOMOS we are invited to participate on an urban art exhibition called Inter-versiones. Ideas created for an specific site, at the Centro Historico de Mazatlán. The goal is to intervene public space to revalue it and take arte from museums to the street. Based on two themes: the urban temporal and urban spatial.
Our proposal as architect workshop tries to show the materiality of elements used on local construction elements: brick, pine wood, steel wire, nails, concrete and plexiglas. The site chosen to intervene is at the end of Constitucion Street on the "malecon" of Olas Altas. We choose this place for its spatial urban relation with the street, seafront, sidewalk, visual axis, sea, wind and sun.
We analyzed the incidence angle of sun rays on this time of the year to make them coincide at sunset with the orange plexiglas attached on the top of the piece and the street, achieving an interaction of light and shadow. This plexiglas piece was attached by wire, letting the wind flow within, moving it in a sensual poetic way.